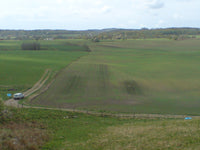 Biochar Carbon Removal in ag soils
Our first large-scale biochar carbon removal was done 2009 in Swedish agricultural fields. It rendered the world's first biochar carbon removal certificate.
Purchase carbon removal
Industrial carbon removal
The pyrolysis capacity at our co-owner Skånefrös facility in Hammenhög is generating proven carbon removal capacity at an industrial scale.
Our historical roots
ECOERA Sustainable Biochar Systems
Millennium Biochar carbon removal (BCR) is a result from research and innovation at the biochar innovation company ECOERA. We created the world's first biochar carbon removal platform, starting in 2009 as we begun our journey with Swedens first large-scale biochar application in West Sweden. ECOERA is a Swedish biochar CDR company and was founded at Chalmers Ventures in collaboration with Skånefrö AB. We have been awarded the status as WWF Climate Solver company. With our partners, we provide a full platform for biochar production using biochar from biomass residue blends with full traceability from the source and content.